Most people are excited when they quit their job to build a business that they love. After all, who wouldn't want to live life on their own terms, while building a business that they can work from anywhere in the world? The fact that countries like Dubai and Spain are now offering digital nomad visas have made the idea of building an online remote business even more attractive than it was before. The concept of living as a digital nomad entrepreneur is always exciting, until you start facing the challenges of building a business from scratch.
Most first-time entrepreneurs who find themselves in this position end up dashing from one blog to the next looking for answers to the problems they're dealing with. Reading business blogs, registering for online courses and watching one business-related YouTube video after another is all well and good. However, at the end of this mad dash, you have to piece together all the advice and knowledge in a way that makes sense for your business. Scrambling from one resource to another can be extremely time-consuming for an entrepreneur who wears many hats (if not all of them).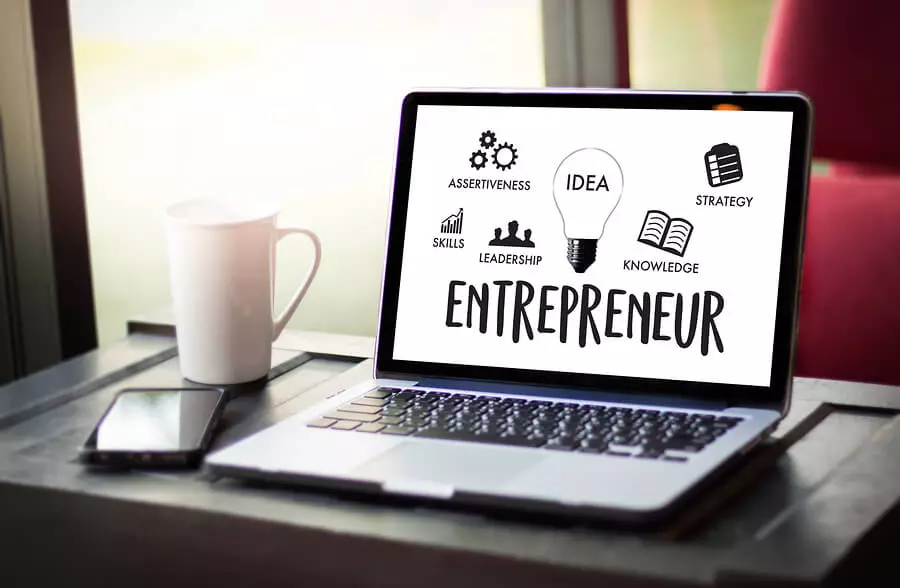 Luckily, Emily Toft and Blair Quane have developed a solution to this problem in form of their online library for entrepreneurs – emilyandblair.com. This online library is the home to step-by-step advice for entrepreneurs who want to build or grow an online business that they can work from anywhere in the world.
Why emilyandblair.com?
Drawing from their experience in business ownership and wellness, Emily and Blair have compiled a free resource library for entrepreneurs who want to build successful online businesses. This library is designed to serve people who are just launching a new business for the first time, as well as those growing an established online business. Their website – emilyandblair.com – boasts over 270 articles and a rich collection of downloads, references and recommendations. With these resources, emilyandblair.com guides entrepreneurs through the entire journey from launching an LLC right through to selling their website. At emilyandblair.com, you can find all the advice, guides and tools you would need at any journey of your online business journey in one place. What's more, you can access all these resources for free!
How emilyandblair.com works
Since emilyandblair.com doesn't charge a fee, anyone can access the website from anywhere in the world. The resource library is divided into Journey Steps that cover the stages most entrepreneurs go though in starting and growing their online businesses. As an entrepreneur, you can easily navigate through these steps using the navigator in the side bar of each article or by using the right-hand bullets or the navigation pane located in the side bar of each article. You can simply decide where you are in the process or what information you require before diving into the content. If you're starting from scratch, you can start with Step 1 and work your way through to the end.
Emily and Blair also host a podcast –Elevating Business – for entrepreneurs who need extra help with the everyday aspects of running a business. In addition to business advice and how-to guides, Emily and Blair highlight some products software or services that you can use in particular stages of your entrepreneurship journey.
What kind of business can I launch?
Are you considering launching a business but you're not sure what kind of business you want to launch? You'll be happy to hear that there are several business models that you can choose from:
The most common type of business is a small business. This refers to any small business started by a single person who has no intention of expanding or franchising. You could open a single store, for example, if you wanted to create a fashion boutique, a general store, or an online business. To get your firm off the ground, you would most likely hire local employees or even family members, and you would have to put your own money into it. The downside to this type of business, however, is that you only make a profit if your company does. This means that you need to be driven and committed to seeing the company through.
The second business model is a scalable startup. Inspired by a desire to change the world, the focus of a scalable startup is to create a business model that can be both replicated and scaled. Entrepreneurs who invest in this kind of business do so with the hope of rapid expansion and large profit returns. Amazon, Google, and Apple are all very good examples of this. Entrepreneurs must pay attention to the amount of money they have. The business usually relies on financial backing from venture capital investors. Similarly, this model depends on human resources to drive the business forward and develop a successful startup. Knowing the long-term plans for profitability and the ways in which your firm will expand, is crucial – both for your sake and the sake of your investors.
Intrapreneurship is yet another business model, but it goes against the traditional definition. An entrepreneur is also the business founder, designer, and manager. On the other hand, an intrapreneur is a self-motivated, action-oriented employee who thinks outside the box and works as an entrepreneur within a corporation. Companies can support and develop employees who have an entrepreneurial spirit through intrapreneurship.
Next of the list is large corporations that have finite life cycles. These corporations are born out of existing companies that are constantly innovating to provide consumers with new products related to their main product line. This sort of business model does not require the establishment of a new firm. Rather, it is built through the development of new products or subsidiaries inside an existing company, or the acquisition of smaller businesses (like when Facebook bought Instagram and WhatsApp). These divisions are more directly focused on extending the client base, developing the business, and reaching new markets.
People always say that imitation is the best form of flattery, and the next type of entrepreneurship is no different. Also known as adoptive entrepreneurship, imitative entrepreneurship replicates what other businesses have done, but with lower financial risks and limited resources. However, you are planning to use this business model, you should know that you will essentially be copying an idea, but trying to find ways to make it better. In order to be successful, entrepreneurs need to be taking notes on what a company is missing and figuring out ways to make the business better.
Innovative entrepreneurs are always on the lookout for the next big thing. An innovative entrepreneur is someone who has ground-breaking ideas about how to start a business or sell specific services and goods that can be turned into business ventures. Entrepreneurs understand that they must continually be informed of existing market situations in order to develop unique and creative ways to disrupt them successfully. Not only does innovation refer to product concepts, but it also applies to how businesses are run. Changing the status quo and pushing limits are all part of innovative entrepreneurship.
The next business model is created by purchasing a developing or established business and helping them thrive rather than figuring out how to raise money for a business. As a buyer entrepreneur, unlike a traditional investor, you remain financially and personally invested in the business, remaining active and contributing directly to the growth of your investment. Buyer entrepreneurs frequently delegate leadership to others, but they always remain involved in the enterprises they acquire.
While being an entrepreneur requires a large amount of research, there is also such a thing as research entrepreneurship. This term basically applies to a great business idea that has been paired with academic research and a significant understanding of how to put limited resources to good use. There is a heavy emphasis of façts, as well as data. There is also an acknowledgement that with preparation and proper knowledge, a business is more likely to be successful.
Finally, social entrepreneurs are people whose primary purpose is to provide products and services that improve the world while still making money. People who run non-profits, for-profits, or hybrid businesses that are committed to social or environmental improvement are referred to as social entrepreneurs. Educational initiatives, microfinance organisations, and companies that provide banking services in developing countries are just a few examples. Toms Shoes was a social entrepreneur pioneer, proposing a one-for-one sales model that supplied a pair of shoes to a child in need for every pair of shoes sold in 2006. Social entrepreneurship stands out from the other business models because the goal is not just financial gain, but also social effect.
Regardless of what business model you choose to invest your time and money in, the right resources will dramatically boost your chances of success with the right resources. With the resources from emilyandblair.com, you can realize the freedom you crave, get financially liberated, work wherever and whenever you want, and enjoy every step of the journey.
You can get more information and updates from emilyandblair.com on Instagram.